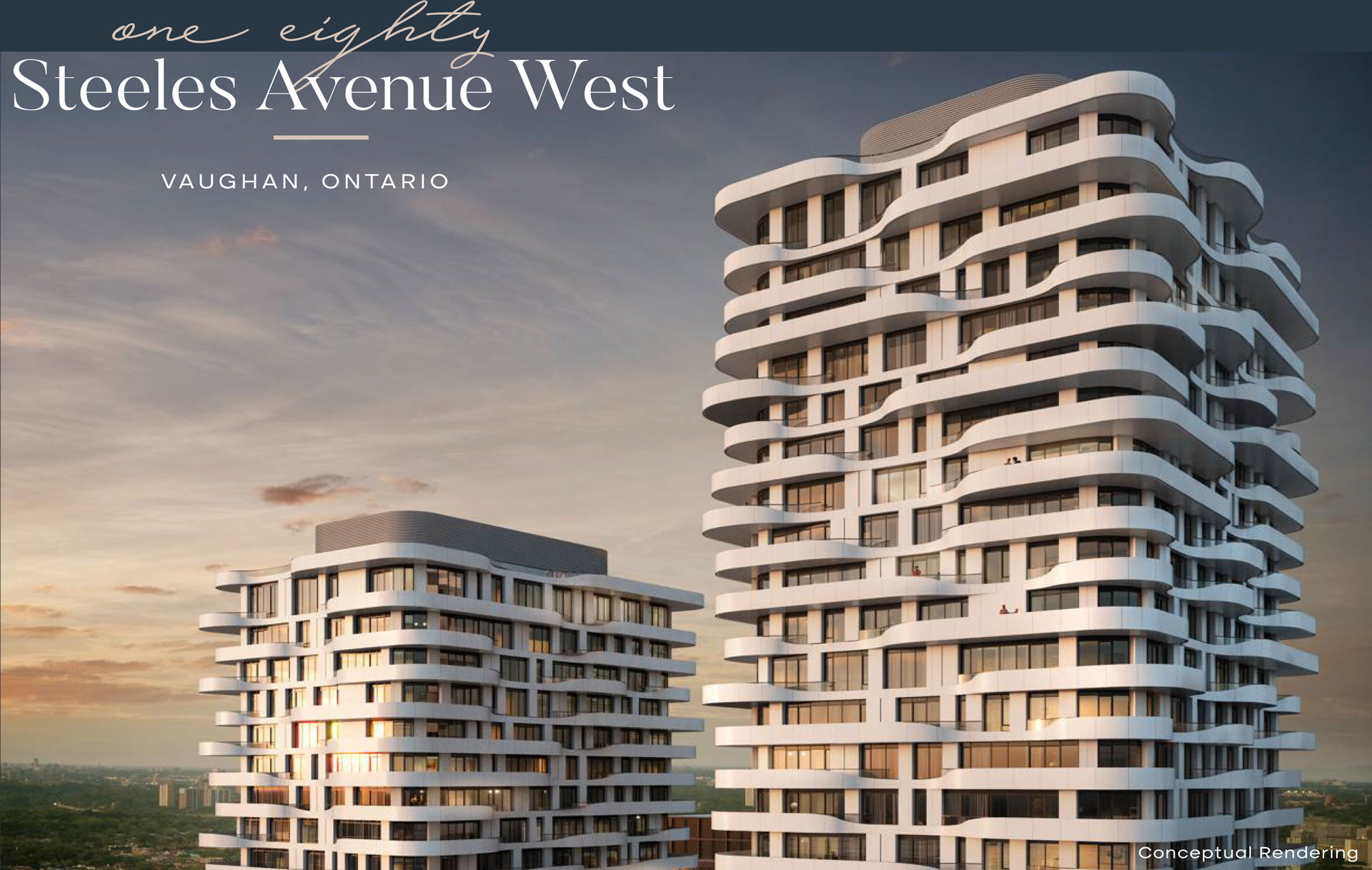 Landmark Opportunity for Multi-Tower Development Situated just west of the future TTC Extension
CBRE's Land Services Group is pleased to offer for sale 180 Steeles Avenue West in the City of Vaughan, located just west of Yonge Street. The offering provides a significant opportunity for a multi-tower development that will benefit substantially from the future TTC Subway expansion along Yonge Street and the future Steeles BRT/LRT line, providing unmatched transit connectivity.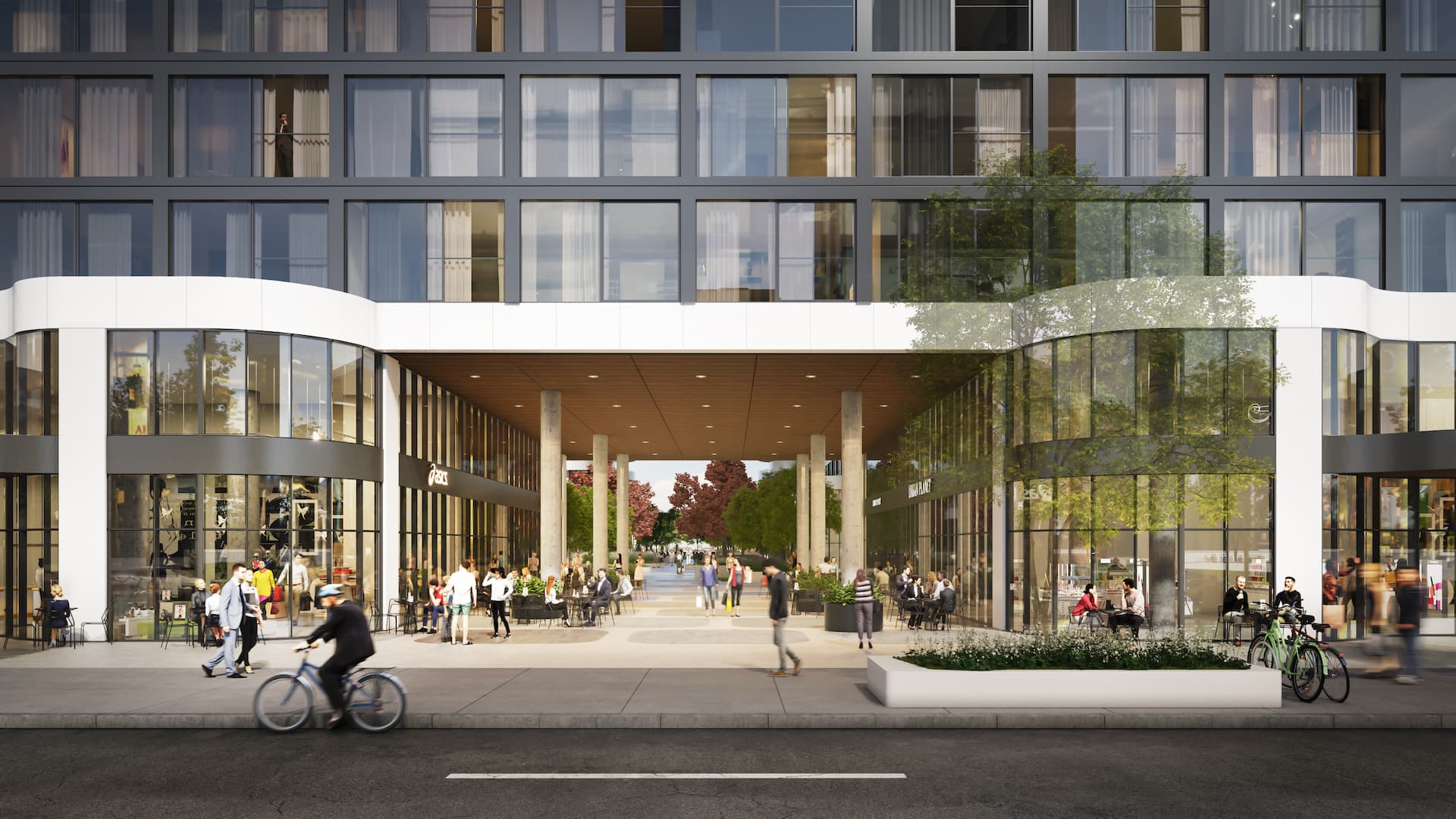 – The vendor submitted an Official Plan Amendment (OPA) and Zoning By-law Amendment (ZBLA) application in February 2020 to permit a high density mixed-use development.
– The vendor is proposing a 4-tower, multi-phased development comprising 2,196 residential units and 34,243 sq. ft. of non-residential space. The buildings range from 34 to 55 storeys connected by a 6 storey podium with a total GFA of 1,867,701 sq. ft. The development includes over 1.7 acres of parkland on the property providing future residents ample green space to enjoy.
– Of the 2,196 residential units, 440 are proposed to be live/work, which helps to satisfy non-residential space on site, while allowing purchasers and investors the ability to operate a business out of their unit if desired. It is anticipated that a settlement hearing for the ZBLA will occur in March 2023 for the proposed development.
Over the past decade, the North Yonge corridor has received an influx of interest from the high density residential development community.
– Fueled by it's scalable development opportunities, future accessibility to TTC subway and a new BRT line and strong demand from homeowners/ renters, this location is an ideal candidate for new condominium or purpose-built rental development. There are currently over 1,200 condominium units under construction, which are achieving pricing in excess of $1,400 per sq. ft. with strong absorption.
 PROPERTY INFORMATION
FRONTAGE
Frontage: 397 ft. along Steeles Ave W
OFFICIAL PLAN
High-Rise Mixed Use and Park (as per The Yonge Steeles Secondary Plan)
ZONING
Proposing RA3 (H1) (2) – Apartment Residential and OS2 – Open Space Park
EXISTING CONDITIONS
The Site is improved with a 95,200 sq. ft. commercial plaza and surface parking
 ABOUT THE DEVELOPMENT
THE SITE PROVIDES AN EXCEPTIONAL MULTI-TOWER DEVELOPMENT OPPORTUNITY THAT WILL BENEFIT SIGNIFICANTLY FROM FUTURE TRANSIT INFRASTRUCTURE.
– The development proposes a multi-phased, 4 tower development with a total GFA of 1,867,701 sq. ft. and 5 levels of underground parking.
– Proposed to be developed through two phases, Building 1 (B1) comprises tower A and B, 55 and 34 storeys respectively, that are connected by a 6 storey podium. Similarly, Building 2 (B2) also comprises a 55 and 34 storey tower connected be a 6 storey podium, known as tower C and D.
– In total, the development would provide 2,196 residential units, with a mix of studio, 1 bedroom, 1 bedroom + den, 2 bedroom, 2 bedroom + den and 3 bedroom units. Of the 2,196 units, 440 are proposed to be live/work units, all of which are located entirely within the podium of the two buildings between floors 1 to 6.
RETAIL
No Frills
Canadian Tire
Metro
FreshCo
Sobeys
Walmart Supercentre
Hudson's Bay
RECREATION
Goulding Park Community Ctr
The Thornhill Club
Ladies' Golf Club of Toronto
Harryetta Gardens
Moore Park
Vaughan Crest Park
York Hill District Park
INSTITUTIONAL
York University
Seneca@York Campus
Newtonbrook Secondary School
Drewry Secondary School
Yorkville University
Pleasant Public School
Dufferin Clark Library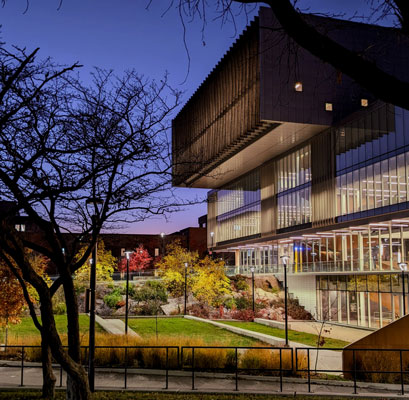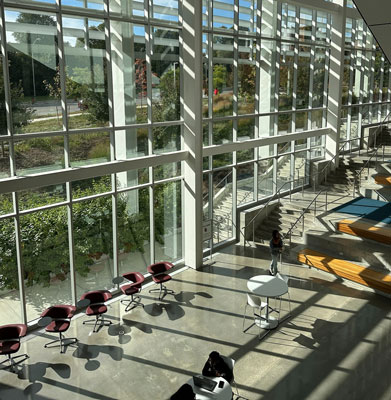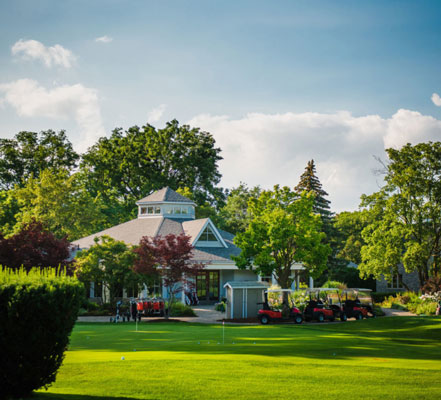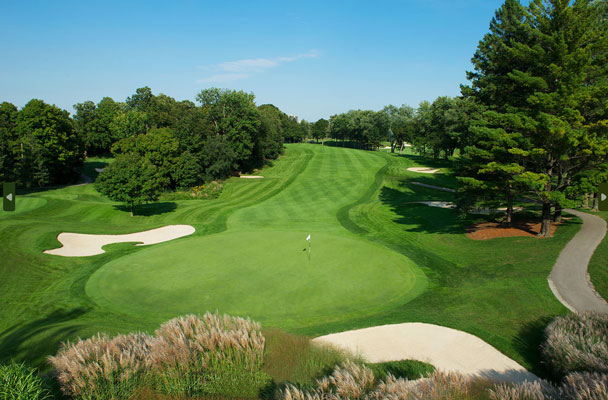 TWO ACTIVE CONDOMINIUM PROJECTS WITH OVER 1,200 UNITS UNDER CONSTRUCTION

NEW CONDOMINIUM PROJECTS OF SCALE SELLING OUT IN FIRST MONTHS OF LAUNCH

NEW CONDOMINIUM PRICING UPWARDS OF $1,420 PER SQ. FT

WEIGHTED AVERAGE RENTAL RATE OF $3.80 FOR EXISTING BUILDS
(Q3 2022)

ANNUAL WEIGHTED AVERAGE RENTAL RATE INCREASE OF 21%
(Q3 2021 TO Q3 2022)
NEARBY DEVELOPMENT APPLICATIONS PROPOSE OVER 20,000 NEW RESIDENTIAL UNITS IN THE YONGE STEELES CORRIDOR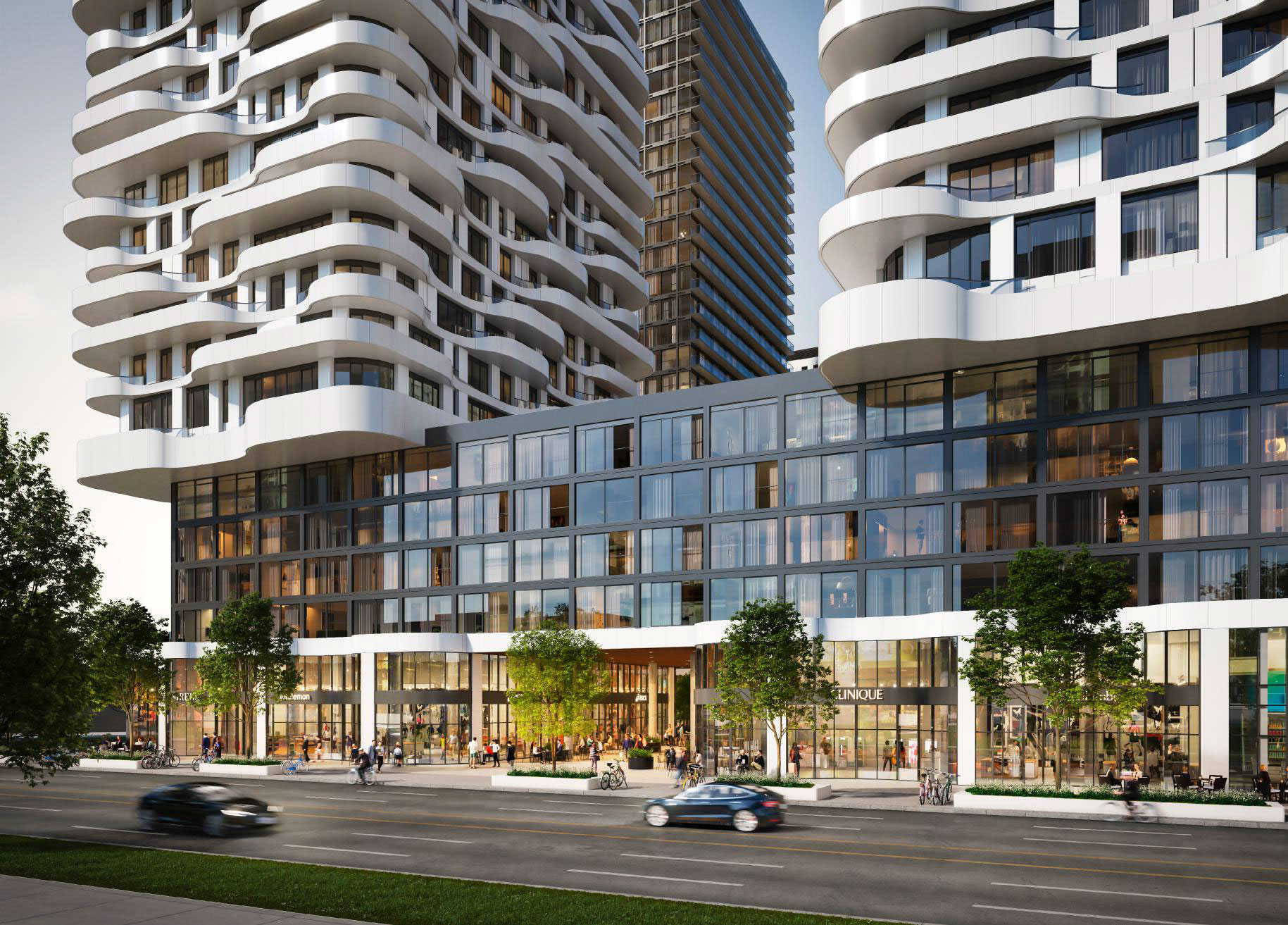 CBRE has been retained by the vendor as the exclusive advisor to seek proposals for the disposition of 180 Steeles Avenue (the "Property") in Vaughan, Ontario. Interested purchasers will be required to execute and submit the vendor's form of Confidentiality Agreement ("CA") prior to receiving the information on the Offering.
All inquiries regarding the Property or for further information should be directed to the advisors below.
Please refer to the Confidential Information Memorandum (CIM) located in the online Document Centre for more information on the offering process.
Offer Submission Date Wednesday, April 12th, 2023 by 3pm (EST).
 Confidentiality Agreement
Potential purchasers that require access to the Document Centre must complete a CA and return it to: