OFFER SUBMISSION DATE: TUESDAY, JULY 11TH, 2023 BY 3PM (EST)
28 RIVER STREET & 550 QUEEN STREET EAST, TORONTO
LANDMARK REDEVELOPMENT OPPORTUNITY WITHIN A COVETED NEIGHBOURHOOD
CBRE's Land Services Group is pleased to offer for sale 28 River Street & 550 Queen Street East (known as the "Property" or "Site") in Downtown Toronto.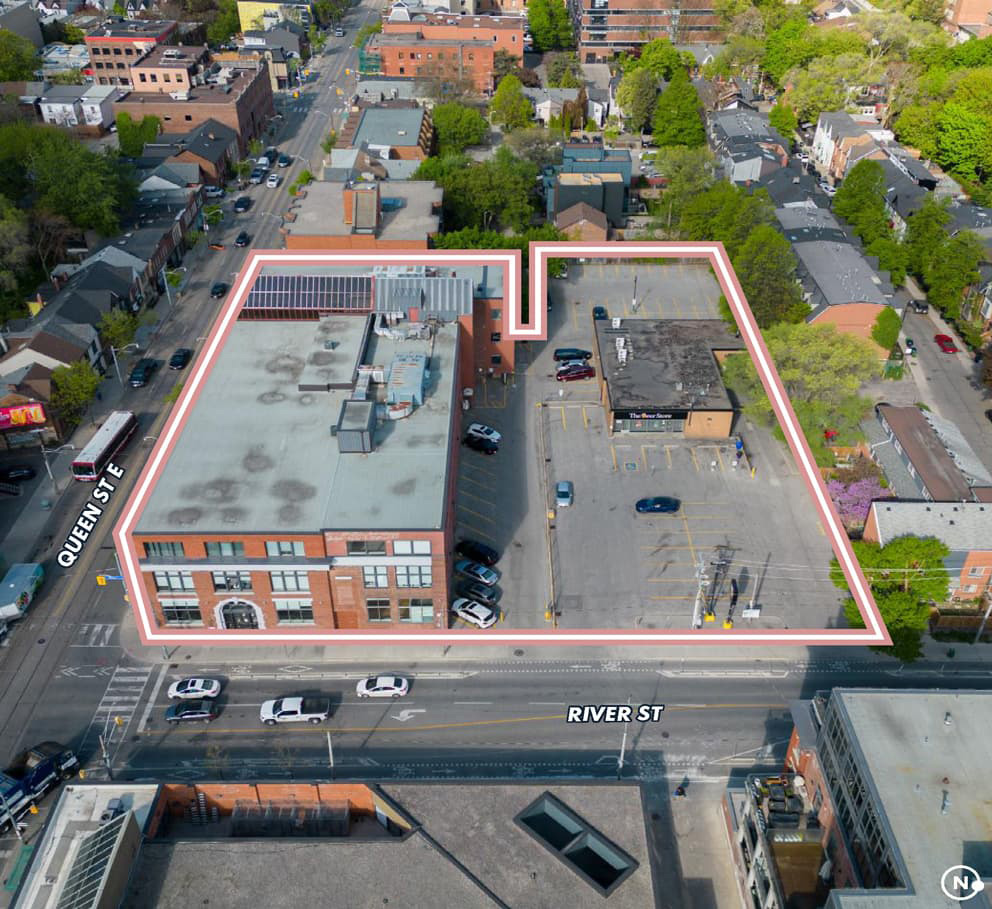 The Site has been rezoned to ideally allow for the development of an 18-storey mixed use development with a total GFA of 336,910 sq. ft. (31,300 sq. m.). Of the total GFA, a maximum of 306,771 sq. ft. (28,500 sq. m.) of residential uses is permitted, a maximum of 32,291 sq. ft. (3,000 sq. m.) of non-residential uses is permitted and a minimum of 12,069 sq. ft. (1,400 sq. m.) is required as per the approved Zoning By-Law Amendment (ZBLA).
The current plans show a total of 380 residential units, including five 3-storey townhouse units located on the northwest portion of the site. There is currently one level of underground parking being shown with 106 spaces.
The facade of the existing building at 550 Queen Street East will be retained and incorporated into the development given it is designated heritage, allowing for a unique podium design that will help enhance the pedestrian realm and allow the building to serve as a gateway to Downtown Toronto from the east and Leslieville to the west.
Over the past decade, spearheaded by large scale revitalization projects and investments in infrastructure, the area has witnessed significant redevelopment and interest from the high density residential development community.
With unmatched current and future transit opportunities and strong demand from homeowners/renters, this neighbourhood is an ideal candidate for a new condominium or purpose-built rental development.
pin(s):
210800237 & 210800236
total area:
1.25 acres
frontage:
208 ft. along Queen Street East
depth:
220 ft.
official plan:
Mixed Use Areas
zoning (as amended):
(H) CR 2.5 (c2.0 r2.0) SS2 (x780)
existing conditions:
550 Queen Street East is currently tenanted with 13 commercial tenants all of which have demolition or termination clauses. The total NOI is approximately $609,000 (inclusive of leases for parking spaces) as of March 31, 2023. 28 River Street is currently occupied by The Beer Store. The Beer store has an option to return into the development in approximately 6,000 sq. ft. for 15 years with an option to extend three times for 5 years. The base rent for the first 5 years is $40.00 per sq. ft. of rentable area, $44.00 per sq. ft. for the following 5 years, and $48.00 per sq. ft. for the last 5 years. Please see data room for complete leases and current rent roll.
environmental:
A Preliminary Phase II ESA was conducted by McClymont & Rak Engineers in March 2019. Please see data room for more information.
access:
As part of the redevelopment, vehicular access will be provided off of River Street.
mortgage:
Treat as free and clear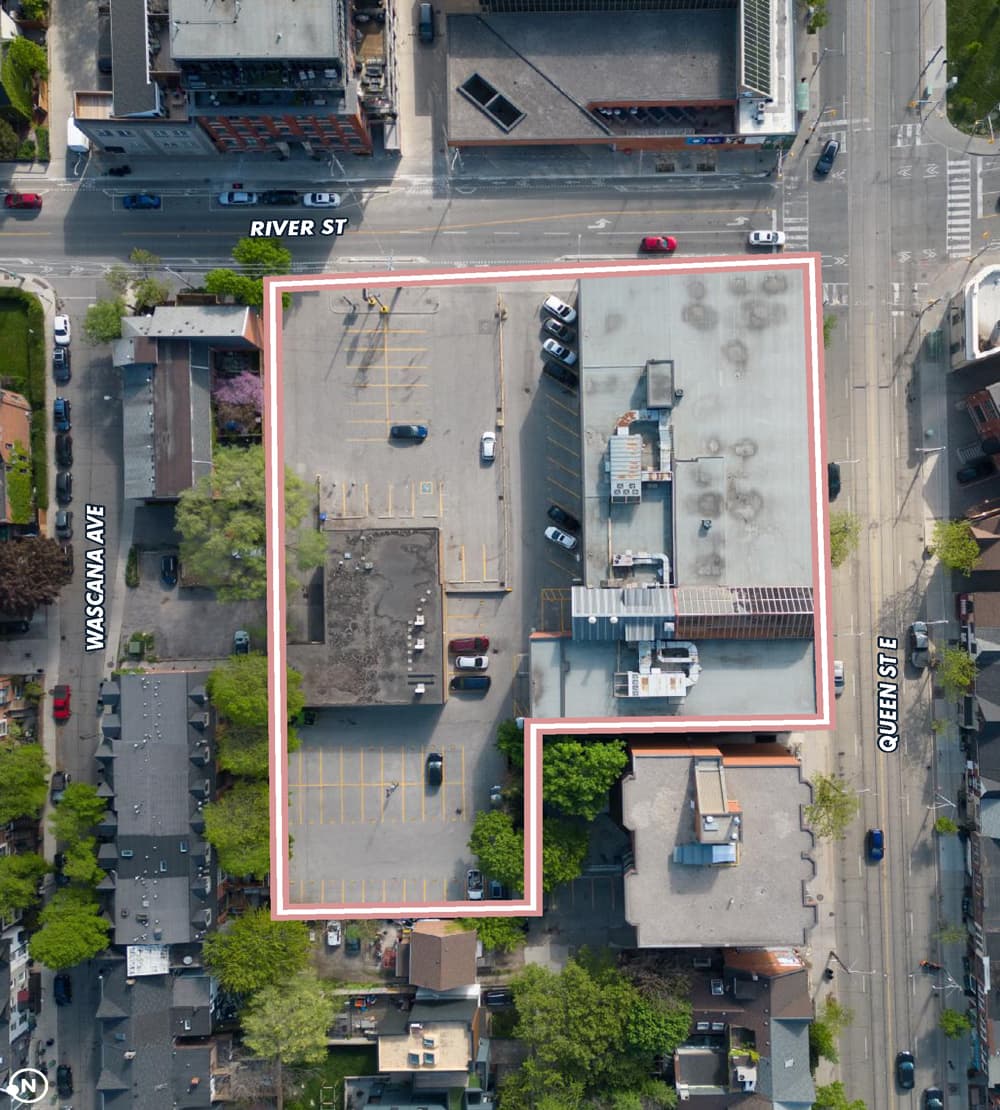 ACTIVE DEVELOPMENT APPLICATIONS & PROJECTS COMING SOON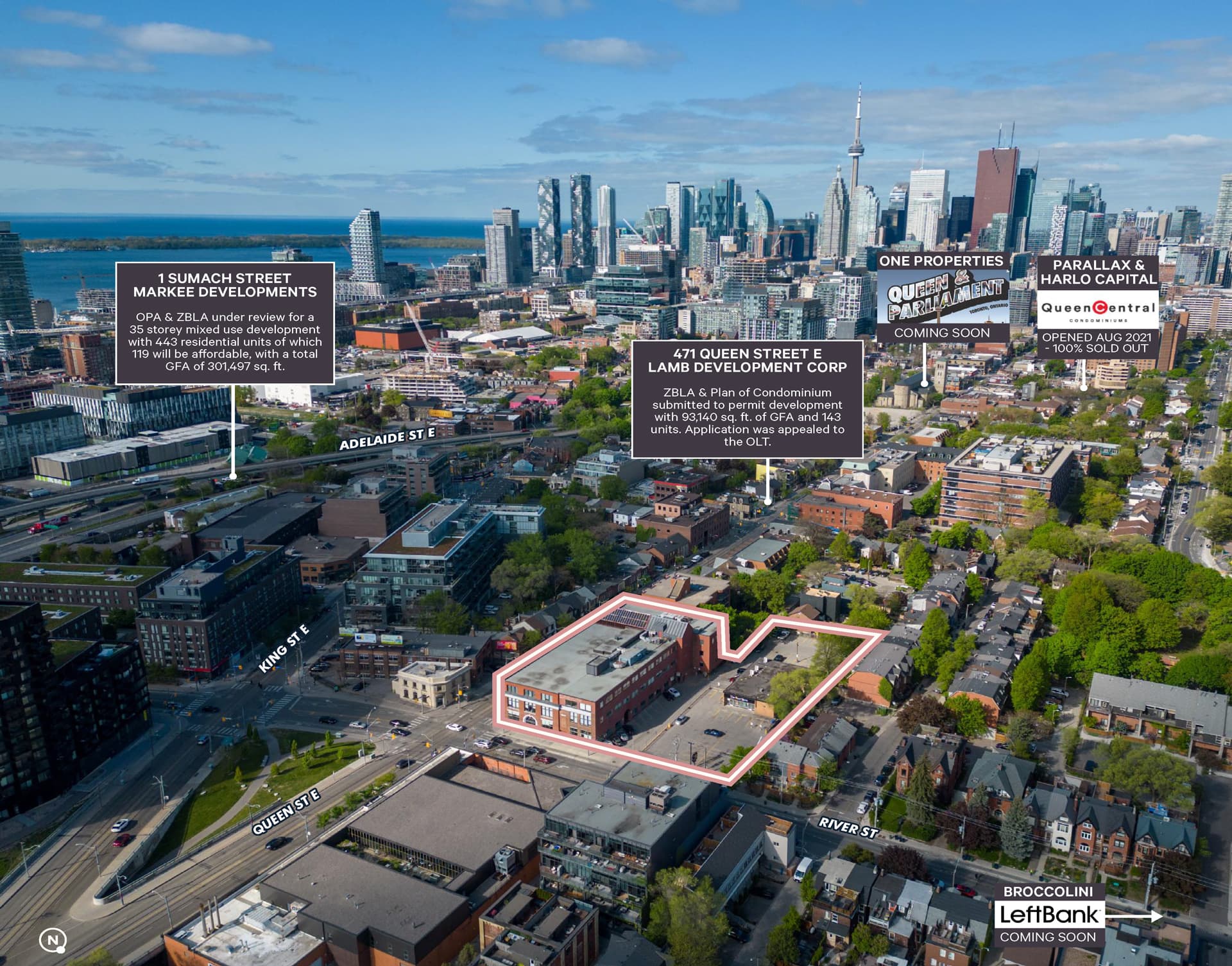 about the approved
DEVELOPMENT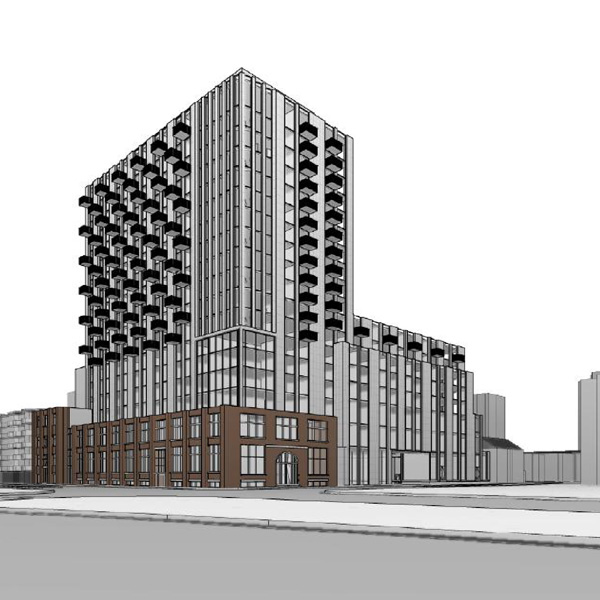 The offering provides a significant opportunity for a high density, mixed use development of a prominent corner site with 336,910 sq. ft. (31,300 sq. m.) of total GFA. Of the total GFA, a maximum of 306,771 sq. ft. (28,500 sq. m.) of residential uses is permitted and a maximum GFA of 32,291 sq. ft. (3,000 sq. m.) of non-residential uses is permitted.
Please note that of the total GFA, the required minimum GFA for office uses is 12,069 sq. ft. (1,400 sq. m.). The total number of residential units currently being proposed is 380, of which 22 (6%) are studio, 229 (60%) are one-bedroom, 92 (24%) are two-bedroom and 37 (10%) are three-bedroom, allowing for an ideal mix of units to be delivered to the market. The ground floor of the building facing Queen Street will consist of the lower level of 9 livework units extending west from River Street, with office space located at the westerly end of the Queen Street frontage.
As per the ZBLA, of the total number of dwelling units provided, a minimum of 15% of the total number of units must have two or more bedrooms and a minimum of 10% of the total number of units must have three or more bedrooms. An additional 15% of the total number of units must have two or three bedrooms or much be units that can be converted into two or three bedroom units. This could be achieved through various adaptable design measures including knock-out panels.
PROPOSED SITE PLAN (DECEMBER 2021)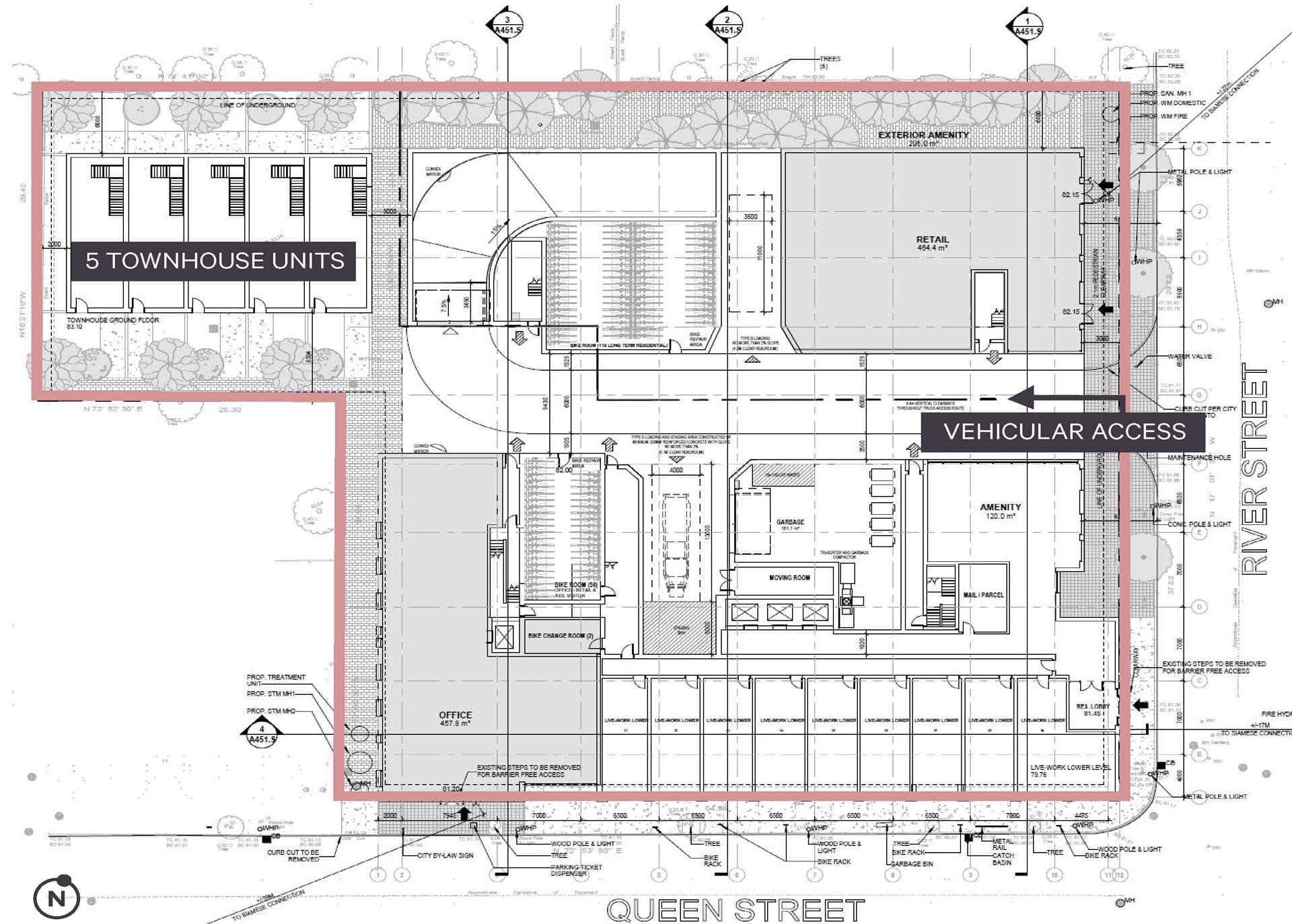 development breakdown
(based on December 2021 drawings)
| | |
| --- | --- |
| HEIGHT | 18 storeys (60 m) |
| TOTAL GFA | 336,221 sq. ft. |
| TOTAL RESIDENTIAL GFA | 304,274 sq. ft. |
| TOTAL NON-RESIDENTIAL GFA | 31,947 sq. ft. |
| TOTAL AMENITY SPACE | 9,580 sq ft. |
| TOTAL UNITS | 380 |
| TOTAL PARKING SPACES | 106 within 1 level of underground parking (please note that there are no car-share spaces proposed in this plan) |
| | | |
| --- | --- | --- |
| TYPE | NO. OF UNITS | TOTAL % OF UNITS |
| Studio | 22 | |
| 1-Bedroom | 229 | |
| 2-Bedroom | 92 | |
| 3-Bedroom | 372 | 10% |
| Total | 380 | |
2 Inclusive if the 5 townhouse units
The Toronto East neighbourhood of downtown Toronto has witnessed significant growth and development fueled by current and future transit infrastructure, employment growth and several large-scale revitalization projects including Regent Park, East Harbour, West Don Lands and The Port Lands.
Within a 2km radius surrounding the Property, there have been 11 new condominium launches since August 2021.
DANIELS ON PARLIAMENT – SOUTH TOWER
QUEEN CENTRAL CONDOMINIUMS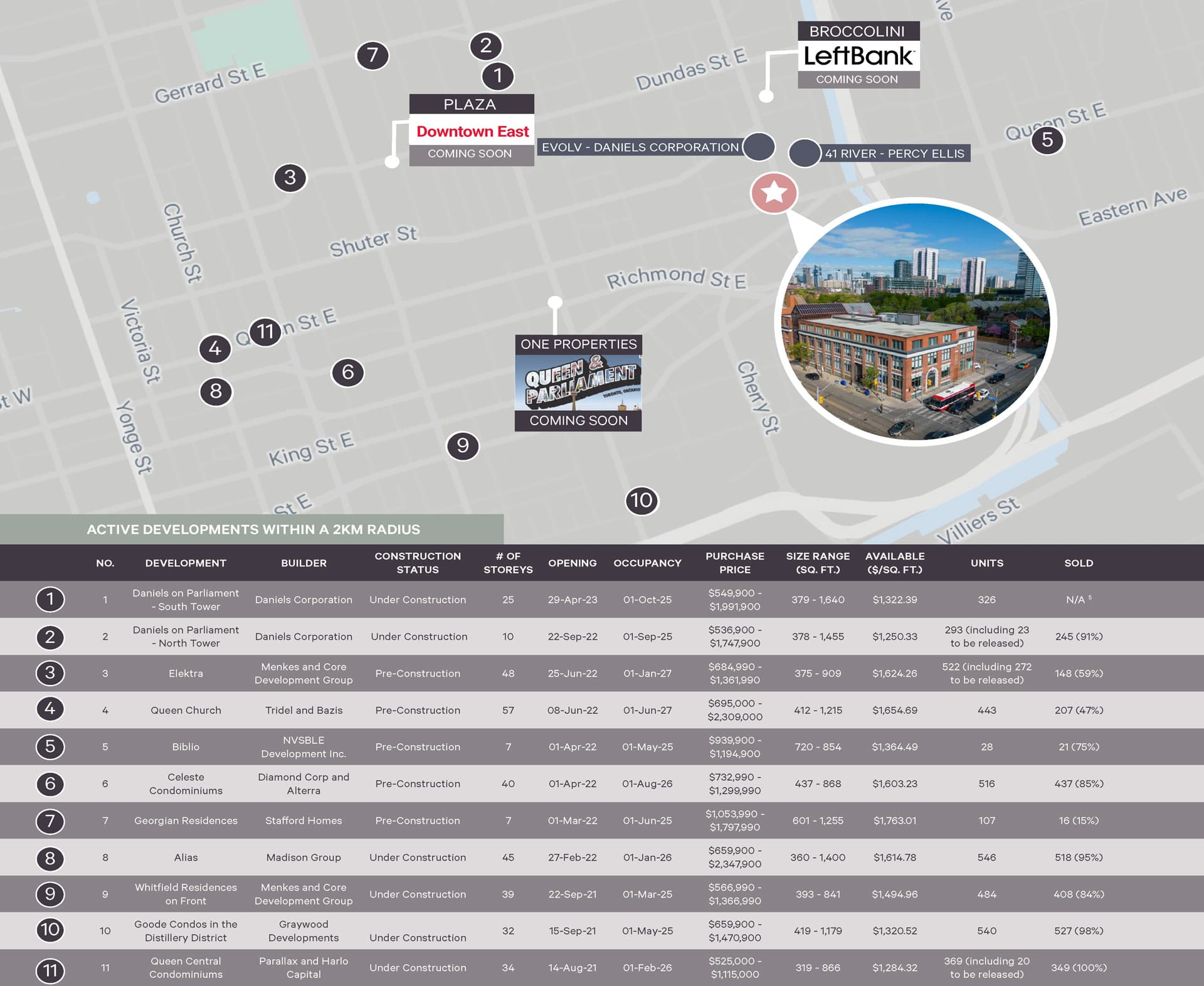 COVETED AND IN DEMAND NODE OF TORONTO – GATEWAY BETWEEN DOWNTOWN AND RIVERDALE
NEIGHBOURHOOD OVERVIEW
The site's surrounding area boasts a wide range of trendy cafés, restaurants, art galleries, bars and retail stores, including Gusto 501, Terroni, Dark Horse Coffee Shop, and Impact Kitchen, among others. Situated along Queen Street East, with prominent frontage, the Site benefits from direct access to the Queen 501 Streetcar providing connections across the City to a number of landmarks and institutions, including the Eaton Centre, Toronto Metropolitan University, and Woodbine Beach to the east.
The property is within walking distance to a number of parks and recreational opportunities, including Riverdale Park, the Pam McConnell Aquatic Centre and Corktown Commons, which connects to the Lower Don River Trail. This bustling street provides visitors with a captivating experience due to its lively ambience, offering a truly engaging urban experience.
UNMATCHED TRANSIT CONNECTIVITY
With an almost a near perfect walk, transit and bike score, the property benefits from its excellent transit connectivity through the Queen 501 Streetcar, one of the longest streetcar lines in North America, as it connects Roncesvalles Avenue in Parkdale with Neville Park in the Beaches.
In addition, the property will benefit significantly from the new Ontario Subway Line which connects Liberty Village with the Ontario Science Centre at Eglinton and Don Mills.
There will be two new stations within walking distance of the Site along the line at Moss Park and Corktown. The Ontario Line is currently under construction and is anticipated to be operational in 2031. Lastly, the Site is only a 2-minute drive from the DVP which provides direct connections across the GTA for residents and workers alike.
1. Aisle 24 Market
2. FreshCo
3. Rocco's No Frills
4. Yonge-Dundas Square
5. Gusto 501
6. George Brown College
7. Mount Sinai Hospital
8. University of Toronto
9. Toronto Metropolitan University
10. CF Toronto Eaton Centre
11. Queen's Park
12. Riverdale Park
13. CAA Ed Mirvish Theatre
14. Toronto General Hospital
15. Royal Ontario Museum
16. Women's College Hospital
17. The Distillery Historic District
18. St. Lawrence Market
19. Metro Toronto Convention Centre
20. Scotiabank Arena
21. Cherry Beach
22. Broadview Hotel
23. Impact Kitchen
24. Dark Horse Espresso Bar
1. Aisle 24 Market
2. FreshCo
3. Rocco's No Frills
4. Yonge-Dundas Square
5. Gusto 501
6. George Brown College
7. Mount Sinai Hospital
8. University of Toronto
9. Toronto Metropolitan University
10. CF Toronto Eaton Centre
11. Queen's Park
12. Riverdale Park
13. CAA Ed Mirvish Theatre
14. Toronto General Hospital
15. Royal Ontario Museum
16. Women's College Hospital
17. The Distillery Historic District
18. St. Lawrence Market
19. Metro Toronto Convention Centre
20. Scotiabank Arena
21. Cherry Beach
22. Broadview Hotel
23. Impact Kitchen
24. Dark Horse Espresso Bar
*Sales Representative **Broker | All outlines are approximate
CBRE Limited, Real Estate Brokerage
2005 Sheppard Ave E, #800, Toronto, ON M2J 5B4